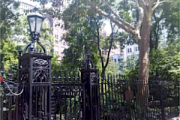 Posted on 02. Feb, 2010 by Gramercy Consulting Group in Monthly Commentary
January performance was driven by the Bond Portfolio performance of +1.08%.  In the U.S. fixed income markets, bond prices increased during the month as signs of the economic recovery weakened and new financial regulations were being proposed (the "Volker Rule").  The Barclays Aggregate Bond Index ("BABI") returned +1.53% over the month of January.  The 10 year US Treasury yield dropped to 3.61% by month end from 3.84% over the month.  Although fourth-quarter gross domestic product (GDP) for the U.S. and U.K. turned positive, unemployment still persists at 9.7% and uncertainty about the recovery continues.
The Limited Risk Portfolio was down –4.12% while the S&P which finished down –41.23% or -3.70% for the month, its worst monthly percent drop since February 2009 when it fell –10.9%.  The Dow finished down –360.72 or –4.46% for the month, its worst monthly performance since February 2009.  Global equity markets fell on concerns that tighter regulations will impede growth and concerns that China is moving towards reining in the availability of credit.  Thus for the 3rd January in a row the calendar-related anomaly known as the January Effect failed to materialize as financial security prices decreased in the month of January.  This phenomenon is usually caused by individual investors who sell stocks for tax reasons at year end (such as to claim a capital loss) and reinvest after the fist of the year.  This year broader market forces caused all equity markets to dip. Greek government bonds were downgraded and Japanese government bonds faced the possibility of a downgrade, adding to the uncertainties about the global economies.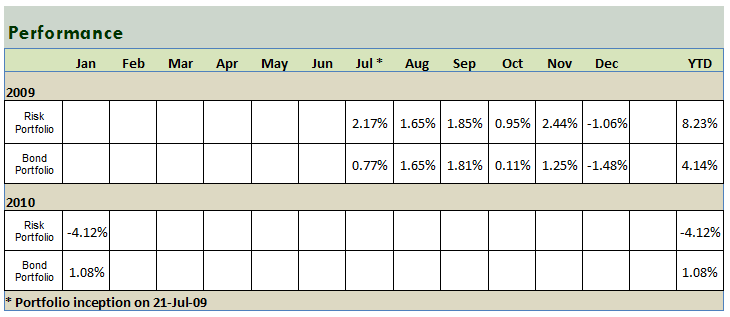 Disclaimer
Past performance is not necessarily indicative of future results and future accuracy and profitable results cannot be guaranteed. Performance is gross of all investment adviser fees which vary by account. Actual performance for any individually managed account may vary significantly from the above numbers as these represent composite portfolio performance and not individual account performance. Any information, data, statements, opinions, or projections made in any materials, newsletter, website ("Website"), article, presentation, or any other communication, service, or product, whether written or verbal (collectively, the "Materials"), affiliated with Gramercy Consulting Group,LLC ("GCG") may contain certain forward looking statements, projections and information that are based on the beliefs of GCG as well as assumptions made by, and information currently available to, GCG. Such statements in the Materials reflect the view of GCG with respect to future events and are subject to certain risks, uncertainties and assumptions. Should one or more of these risks or uncertainties materialize, or should underlying assumptions prove incorrect, actual results may vary materially from those described in the Materials. Furthermore, although carefully verified, data is not guaranteed as to accuracy or completeness. Any quotations of individuals other than the authors or providers of the Materials are provided for informational purposes only and their accuracy and veracity are not guaranteed. The statements, opinions, and/or data expressed in the Materials are subject to change without notice based on market and other conditions. The Materials are based on information available as of the time they were written, provided, or communicated and GCG disclaims any duty to update the Materials and any content, research or information contained therein. Accordingly, neither GCG nor its principals or affiliates make any representation as to the timeliness of any information in the Materials. As a result of all of the foregoing, inter alia, neither GCG nor its principals can be held responsible for trades executed by the recipients or viewers of the Materials based on the statements, projections, research, or any other information of any other kind included therein. Investments in securities are speculative and involve a high degree of risk; you should be aware that you could lose all or a substantial amount of your investment if you attempt to apply any of the information in the Materials. GCG is currently registered as a Registered Investment Advisor with the State of New York, but is not a securities broker-dealer either with the U.S. Securities and Exchange Commission or with any state securities regulatory authority or with any foreign country. In no event shall GCG or their principals be liable for any claims, liabilities, losses, costs or damages, even if GCG has been advised of the possibility of damages.