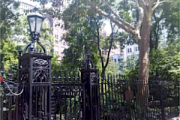 Posted on 06. Nov, 2010 by Ashok Gangolli in Monthly Commentary
The Limited Risk Portfolio returned +1.72% (gross) in October bringing year-to-date performance to +9.31% (gross), and the Bond Portfolio returned +0.34% (gross) in October bringing year-to-date performance to +6.28% (gross).  October was marked by continued global discord over currency management discussions at the G20 meeting in South Korea, uncertainties over the extent by which the Federal Reserve would intervene in markets as part of their "QE2" second round of quantitative easing, and uncertainties surrounding the implications of a Republican controlled House of Representatives in the US.  Equity markets posted strong performance numbers both domestically and internationally amidst a positive 3Q10 earnings season in the US, particularly for corporations with high international sales.  The S&P 500 equity market index was up +3.80%, but still lagged the tech heavy Nasdaq 100 which was up +6.4% and the small capitalization Russell 2000 index which was up +4.1% for the month of October. International equity markets were led by China which was up +15.1%, despite the authorities raising lending and deposit rates by 0.25%.  The Barclays Aggregate Bond Index was up +0.36% for the month of October, despite the 10 year US Treasury yields going from 2.51% to 2.60% over the month.  The interest rate yield curve steepened with the 30 year Treasury yield rising by 30 basis points to 3.99% by month end.  The month of October saw 5 year Treasury Inflation Protected Securities being auctioned at negative real interest rates for the first time in history as investors took the view that QE2 would eventually result in higher inflation if effective.   The US dollar continued to depreciate with each step closer towards QE2 and was down -2.3% vs. the Euro and down -3.5% vs. the Japanese Yen which hit new 15 year highs relative to the US dollar.   Commodity prices continued to surge with agricultural commodities rising astronomically amidst outcries of an impending global food crisis (Sugar was up +24%; Cotton was up +23%; and Corn was up +17%).  
Amidst these market conditions the Limited Risk Portfolio remained balanced across exposures to high yield, emerging market local currency bonds, high dividend and financial sector US equities, and commodity index and gold exposures.   Performance for the month was driven by exposure to a gold ETF (ticker:  GLD), exposure to a high dividend yielding equity ETF (ticker:  DVY), a high yield mortgage focused bond fund (ticker:  DBLTX), and a financial sector ETF (ticker:  UYG).  The broad diversification resulted in annualized daily volatility averaging only 5.5%.  Towards the end of the month, additional equity exposure was added to emerging market ETFs focused on South Korea, Indonesia, and Brazil.  These countries were chosen due to their attractive economic fundamentals, their market valuations, and their economic growth amidst a slow global growth environment.

Performance in the Bond Portfolio was driven by continued overweight exposures to the intermediate credit sector (ticker:  VFIDX) and a satellite position on the 7-10 year US Treasury sector using an ETF (ticker:  IEF). The long-end of the interest rate yield curve was avoided due to the steepening trend and concerns that this would be the sector most negatively affected by QE2 inflationary concerns.

DISCLAIMER 
Past performance is not necessarily indicative of future results and future accuracy and profitable results cannot be guaranteed. Performance is gross of all investment adviser fees which vary by account. Actual performance for any individually managed account may vary significantly from the above numbers as these represent composite portfolio performance and not individual account performance. Any information, data, statements, opinions, or projections made in any materials, newsletter, website ("Website"), article, presentation, or any other communication, service, or product, whether written or verbal (collectively, the "Materials"), affiliated with Gramercy Consulting Group,LLC ("GCG") may contain certain forward looking statements, projections and information that are based on the beliefs of GCG as well as assumptions made by, and information currently available to, GCG. Such statements in the Materials reflect the view of GCG with respect to future events and are subject to certain risks, uncertainties and assumptions. Should one or more of these risks or uncertainties materialize, or should underlying assumptions prove incorrect, actual results may vary materially from those described in the Materials. Furthermore, although carefully verified, data is not guaranteed as to accuracy or completeness. Any quotations of individuals other than the authors or providers of the Materials are provided for informational purposes only and their accuracy and veracity are not guaranteed. The statements, opinions, and/or data expressed in the Materials are subject to change without notice based on market and other conditions. The Materials are based on information available as of the time they were written, provided, or communicated and GCG disclaims any duty to update the Materials and any content, research or information contained therein. Accordingly, neither GCG nor its principals or affiliates make any representation as to the timeliness of any information in the Materials. As a result of all of the foregoing, inter alia, neither GCG nor its principals can be held responsible for trades executed by the recipients or viewers of the Materials based on the statements, projections, research, or any other information of any other kind included therein. Investments in securities are speculative and involve a high degree of risk; you should be aware that you could lose all or a substantial amount of your investment if you attempt to apply any of the information in the Materials. GCG is currently registered as a Registered Investment Advisor with the State of New York, but is not a securities broker-dealer either with the U.S. Securities and Exchange Commission or with any state securities regulatory authority or with any foreign country. In no event shall GCG or their principals be liable for any claims, liabilities, losses, costs or damages, even if GCG has been advised of the possibility of damages.