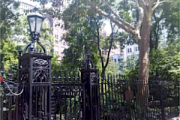 Posted on 04. Apr, 2011 by Ashok Gangolli in Monthly Commentary
March saw tremendous volatility caused by the unfortunate earthquake and tsunami in Japan, followed by the partial meltdown of nuclear reactors in Fukushima and concerns of spreading radiation.  The Libya 'situation' took center stage in the global political front with the NATO forces commencing enforcement of a 'no-fly' zone causing oil prices to continue to skyrocket upward.  Despite the initial global market reaction of falling equity prices and a flight to quality bond market rally, the domestic equity markets bounced back with tremendous strength to finish the month in positive return territory (S&P +0.04%, Dow +0.91%; and Russell 2000 +2.95% for the month of March).  Equity markets were particularly buoyed by the surging merger and acquisition activity headlined by the proposed AT&T acquisition of T-Mobile and the Berkshire Hathaway acquisition of Lubrizol.  10 year US Treasury yields bounced off their lows of 3.15% mid-month to finish the month at 3.44%, just 1 basis point above where they started the month.  The Barclays Aggregate Bond Index posted a +0.21% gain, bringing the total return for the 1Q11 to +0.58%.
 Amidst this volatile backdrop, the Limited Risk Portfolio returned +0.03% for the month of March.  A defensive posture was taken in the portfolio after the Japan earthquake and resultant tsunami given the uncertainties of the effects it would have on global economic growth and the supply chain for manufacturers that rely on parts supplied by Japanese companies.  The equity exposure was scaled back significantly and reallocated to cash which led to the Limited Risk Portfolio missing some of the upside that came from the equity market bounce, but gave the portfolio a much lower risk profile for the month.  Still the overall portfolio was able to attain positive returns for the month with strong performances from exposure to the Indian equity market (MINDX +10.2%), which bounced from two prior months of weak emerging market performance, and exposure to gold (GLD +1.6%) and commodity indexes (DJP +2.0%).
 The Bond Portfolio returned -0.09% for the month of March as duration has been scaled back to 2.6 years which is considerably lower than the Barclays Aggregate Bond Index duration of 5.2 years.  Treasury and mortgage exposure has been underweighted in the Bond Portfolio in anticipation of a rise in bond yields ahead of the June end of the QE2 Treasury bond buying program by the Fed, and inflationary pressures from the continued surge in food and energy prices.  April will be an interesting month as some Fed officials have already made comments in the public about their concerns with keeping monetary policy as accommodative as it has been and the European Central Bank is expected to start raising short-term interest rates at their April 7 meeting in response to inflationary pressures in Europe.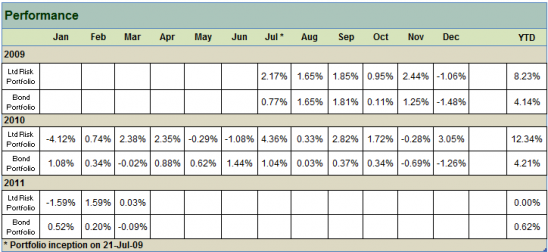 DISCLAIMER
Past performance is not necessarily indicative of future results and future accuracy and profitable results cannot be guaranteed.  Performance is gross of all investment adviser fees which vary by account.  Actual performance for any individually managed account may vary significantly from the above numbers as these represent composite portfolio performance and not individual account performance. Any information, data, statements, opinions, or projections made in any materials, newsletter, website ("Website"), article, presentation, or any other communication, service, or product, whether written or verbal (collectively, the "Materials"), affiliated with Gramercy Consulting Group,LLC ("GCG") may contain certain forward looking statements, projections and information that are based on the beliefs of GCG as well as assumptions made by, and information currently available to, GCG.  Such statements in the Materials reflect the view of GCG with respect to future events and are subject to certain risks, uncertainties and assumptions. Should one or more of these risks or uncertainties materialize, or should underlying assumptions prove incorrect, actual results may vary materially from those described in the Materials. Furthermore, although carefully verified, data is not guaranteed as to accuracy or completeness. Any quotations of individuals other than the authors or providers of the Materials are provided for informational purposes only and their accuracy and veracity are not guaranteed. The statements, opinions, and/or data expressed in the Materials are subject to change without notice based on market and other conditions. The Materials are based on information available as of the time they were written, provided, or communicated and GCG disclaims any duty to update the Materials and any content, research or information contained therein. Accordingly, neither GCG nor its principals or affiliates make any representation as to the timeliness of any information in the Materials. As a result of all of the foregoing, inter alia, neither GCG nor its principals can be held responsible for trades executed by the recipients or viewers of the Materials based on the statements, projections, research, or any other information of any other kind included therein. Investments in securities are speculative and involve a high degree of risk; you should be aware that you could lose all or a substantial amount of your investment if you attempt to apply any of the information in the Materials.  GCG is currently registered as a Registered Investment Advisor with the State of New York, but is not a securities broker-dealer either with the U.S. Securities and Exchange Commission or with any state securities regulatory authority or with any foreign country.   In no event shall GCG or their principals be liable for any claims, liabilities, losses, costs or damages, even if GCG has been advised of the possibility of damages.